So -down off the soapbox and back to regular life. lol
Local News:: If you heard about Rep Davis passing, well so did we. She was a shaker & a mover in the state. Some folks are in shock, especially her real estate buddies. Lord have mercy on her soul. Hopefully she has gone to a better place. I didn't know her that well, so I have been just reading and watching and thinking. Its been interesting to see all her connections in the paper. You'd be surprised what people will say at these times!
Also, seems like the police are having a very bad year. Seems like dozens of them have been arrested for serious current or past misbehaviors in the area (& around the nation). If thats an exaggeration, I apologize, but that is most definitely the impression the news coverage has given us. Its got to be affecting their general credibility by now. Seems a shame because there are so many good ones! Several more deputies died unexpectedly in accidents and whatnot. (Lord have mercy on their souls too!)
& Our fine transportation department has just informed the public that although our bridge is the same type as the
one that collapsed in Minnesota
, its just fine. We can now ignore all that red paint on its many 'items of concern' that have marked this bridge since the big inspection. The spokesperson said that 'if there was a problem they would have limited access to heavier trucks or closed it for an alternate route. Since they aren't - we may rest assured that our bridge is safe to use.' Now - saying they would have closed it IF there was a problem IF there was an alternate route only brings to mind that there is NO alternate route for ohh 30 miles or so. Also that t
he other bridge had been regularly inspected and given a pass before it fell.
Still -its nice to have that reassurance. I feel better already, don't you?
C'mon now, where's your spirit of adventure?
As for us, personally, the news isn't that bad right now, though I am still not quite over my cold. After getting a few things done, and writing the blogs earlier, I had to break out the cold meds & vitamin C once again & forgot to post them!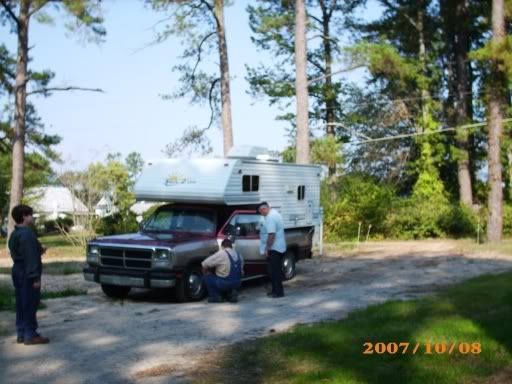 Yep, back to the cough drops, but at least we've had a reasonably good week anyway. We had a relatively (bad pun alert!) good visit on Monday & went to dinner together at decent Chinese buffet. Hung around and chattered by candlelight afterward.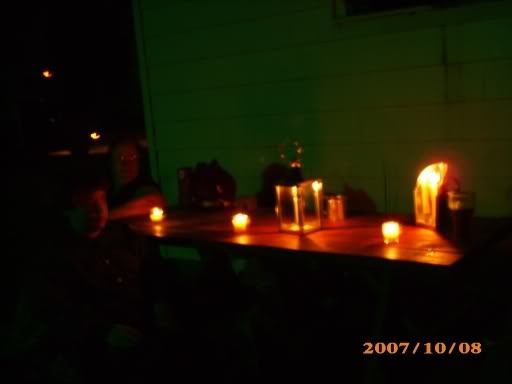 That outdoor table is getting plenty of use!
Tom took him around the neighborhood to see the sights (and was ogled by one of locals who obviously wanted to know very badly who it was we had with us. I have reason to believe she studies this blog, so I shall sport with your curiosity as well. Bwahahaha!)
We have nice weather now & I am improving again rapidly.
Tom still has issues because he is still in waiting mode for getting everything processed that needs to be finished before the surgery. They need to see if his meds need changed etc. It seems like a couple of folks are not interested in doing their jobs, but God is faithful! & today looks to be pretty good. He just made a trade that may make camping easier when we're ready to do that again.