I woke up today 'listening' to the memory of "Holy is His Name," which is John Michael Talbot's arrangement of Mary's praises to God around the time of the Annunciation. Last night I was reading from Luke in my Scofield NKJV and considering these scriptures:
LUKE 1:46 And Mary said:
"My soul glorifies the Lord LK 1:47 and my spirit rejoices in God my Savior,

LK 1:48 for he has been mindful of the humble state of his servant. From now on all generations will call me blessed,
LK 1:49 for the Mighty One has done great things for me-- holy is his name.
LK 1:50 His mercy extends to those who fear him, from generation to generation.
LK 1:51 He has performed mighty deeds with his arm; he has scattered those who are proud in their inmost thoughts.
LK 1:52 He has brought down rulers from their thrones but has lifted up the humble.
LK 1:53 He has filled the hungry with good things but has sent the rich away empty.
LK 1:54 He has helped his servant Israel, remembering to be merciful
LK 1:55 to Abraham and his descendants forever, even as he said to our fathers."
~~~~~~~~~~~~~~~~~~~~~~~~~~~~~~~~~~~~~~~~~~~~~~~~~~~~~~~~~~~~

LK 8:19 Now Jesus' mother and brothers came to see him, but they were not able to get near him because of the crowd. 20 Someone told him, "Your mother and brothers are standing outside, wanting to see you."

LK 8:21 He replied, "My mother and brothers are those who hear God's word and put it into practice."

~~~~~~~~~~~~~~~~~~~~~~~~~~~~~~~~~~~~~~~~~~~~~~~~~~~~~~~~~~~~~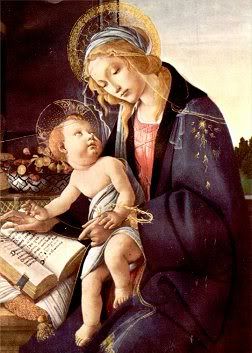 LK 11:27 As Jesus was saying these things, a woman in the crowd called out, "Blessed is the mother who gave you birth and nursed you."

LK 11:28 He replied, "Blessed rather are those who hear the word of God and obey it."

(Zondervan NIV. From my computer)

~~~~~~~~~~~~~~~~~~~~~~~~~~~~~~~~~~~~~~~~~~~~~~~~~~~~~~~~~~
And so this is today's reflection:
When I was growing up, it seemed strange to me that Christ seems to be rebuking his immediate family every time the topic came up. Mary had been told that she would indeed be blessed and honored by God. Surely, this should begin with Christ who always did his Father's will? We should see how to honor her through Him, yes? God would certainly honor his own precepts more than any other. It was a puzzle to me. The best thoughts I could get from folks at church was that Christ was heading off the heresies that were likely to come from Marianism (yes, these were Protestants.) hhmm…
The answer didnt entirely satisfy me. But what DID Jesus mean by these replies?
I have thought on the subject off and on since then, especially since my Mother chose Catholicism some years ago. Mom was raised with both varieties growing up. Her father was Catholic.) I was raised non-denominational, but usually Protestant non-denominational, as congregations tend to be Protestant by default if they aren't from the beginning..Err..Catholic.


Today I realized as I read these that Christ isn't repudiating his mother in these verses. He's telling us WHY Mary is blessed & honored. She heard the Word of God and obeyed it. So why not just say, "yep! God loves Mom & I think she's pretty special myself!"? I think that its because in these cases people were attempting to set natural order/controls over the Incarnation. (As very probably, His mother & relations had been sent to "speak" to Christ by the local religious order.) And to some extent, while He lived among us, there was something to it ~ but His words had to be for all generations. He had to obey God rather than men, but still honor the physical relationships placed over Him on Earth. (Probably Joseph had gone home by the time Christ began His earthly ministry, but he still honored his mother.)

So, in one amazing sentence, Jesus confirms the basis of His strongest relationship with Mary & other members of His family. Simultaneously, He repels the efforts to use natural authority to limit His work for God the Father. & Rather than limiting the most special of God's blessings to those immediately related to Christ while he was physically on Earth, Jesus expands that special relationship to all those who will seek & obey God. 2000+ years later, I can still hope to qualify. And, yes, he limits the basis of Arianism. Saints of His day are not necessarily going to be 'higher' than those serve God in a later time. Christ emphasizes this several times. IE: "But many who are first will be last, and the last first" Mark 10:31 We should not worship them. I do think, though, that we can ask those who have gone ahead to pray for us, even as we pray for one another here on Earth. All that and more in one sentence. Wow.


But what about Mary? Is she special among the saints or not? I think she is. One of Christ's last acts at Calvary was to tell John the Beloved & Mary that they were mother & son, so providing some comfort for them both in His absence. The turning of the water into wine at the marriage of Cana was done largely at Mary's request. This was the closest thing to a 'frivolous' miracle in all the Gospels, and it was done just because Mary asked Jesus to help. Think about it. Christ spent a LOT of time ministering, teaching, healing, casting out evil spirits, raising the dead, and at least twice fed bread to a great many very hungry people who sought Him out ~ turning water into wine is a luxury by comparison. JN 2:4 "Dear woman, why do you involve me?" Jesus replied. "My time has not yet come." (I always imagine Him saying this with a twinkle in His eye.) He rebuked Mary gently, but Christ loved her enough to fix the situation ~ because she trusted in Him. JN 2:5 His mother said to the servants, "Do whatever he tells you."

& Those are the only other direct words we have from Mary, herself. Her witness is to do as Christ says.

We tend to want to say Mary is special because her service included giving birth to and raising the Christ, but Jesus emphasizes her faithfulness to God instead. We cannot be Mary, but we CAN hear God's word and obey it. He's not being ungenerous to her but kind to us. Her position was assurred by the salvation He bought. She already believed.

Final thoughts~


LK 2:33 The child's father and mother marveled at what was said about him. 34 Then Simeon blessed them and said to Mary, his mother: "This child is destined to cause the falling and rising of many in Israel, and to be a sign that will be spoken against, 35 so that the thoughts of many hearts will be revealed. And a sword will pierce your own soul too."

Mary was specially chosen and prepared for what was going to be a difficult life. She was going to need all those amazing encouragements she was given at the Annunciation & after Christ's birth. When Jesus was on the way, she would be dragged to Bethlehem so Joseph could look after her while paying his tax. Joseph may have feared what would happen if he left her with their extended family. When Jesus was still small, she & Joseph had to flee for their lives to Egypt, where they were regarded as weird just for being Jews. After their return it is probable that she faced whisperings and judgments from the neighbors & relatives about Christ's, uh, early arrival. When Christ grew older, His differences were bound to have caused some disturbances, not to mention the strain of suspecting (did she really know?) that she was raising THE perfect child. I would be very surprised if she never had bad days just from that. Then Christ grew up and began his ministry. Now everyone was stirred! How much flak did she hear after Christ rebuked the Pharisees & the Sadducees? How much pressure & how many threats & accusations did she suffer before and after His death? We hear echoes of some of it in the gospels. It was not an easy life. She probably needed the encouragement of that wine midway through her own walk with God.

Christ honored Mary, but he wants us to realize that Mary's special relationship to God, her honor, and her glory were bound up in her faithfulness to Him under tough circumstances.

Susan M