Well, we finally translated the bagpipe videos from the Black Powder history festival.
We ran back when we heard the man playing and caught about half the first song.
Online Videos by Veoh.com
and then all of the second.
Online Videos by Veoh.com
He's rather good!
I thought it especially wonderful that our kids were front and center to hear some decent bagpipe playing given their Scottish heritage. Added a lot to the day!
You may or may not have been able to glimpse Mr Squirrel in the previous slideshow. But now you will be able to see him clearly if you click the thumbnail below. Rebecca was kind enough to lighten the picture in Paint Shop.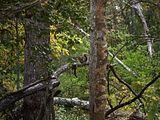 Mr Squirrel makes pretty decent wallpaper - but please remember all rights reserved by artist! (Tom, in this case) In you want to use or post pictures from our album or blogs elsewhere in a commercial project or put it elsewhere on the internet please contact us and ask. Thanks!