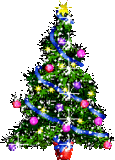 I am happy to announce that Rebecca has finished and uploaded her 2011 digital card to our Christmas site,
www.santapenguin.com
She has done a very nice job with it! I really like how you have to look for the creatures a bit - and yet they are right there in front of you. If the snow-pack seems a little light, that's the way it really is around here (when we get any snow at all. Its supposed to be in the 50's this weekend), and she thought it would be nice to make a snowy, winter scene the way she really sees them here. She's made the lovely banded sky, the bare trees and all. Can you tell I am proud of her?
No, the image isn't on this post. The pics you see here are just cheery bounty from the internet's largess. For some reason, images on this blog have tended to expand or otherwise distort since I had the blog template changed. They look all right in the 'compose' function but do weirdness when I preview/publish. Even the smileys won't sit right unless I move them next to text. *shrugs* Anyway, I would rather you saw DD's work on our Christmas site where it is properly formatted.
As for us, we are having a simpler Christmas than ever. We are
mostly
better, but that bad bug stuck around long enough that we didn't visit as many friends or family as usual or even do much decorating, mailing, baking etc. Even finishing my usual Christmas story has been delayed. This was the year I finally tried elderberry extract along with vitamin C, echinacea, and the other usual immune supplements I grew up with. It was a worthwhile recommendation and really did seem to help. (We needed it all this time!) Even so, William still ended up at the doctor's office last week. He's on antibiotics and resting well. He says he's pretty sure he's up to eating Christmas dinner with us now.
What energy we had in November/December was prioritized towards for finishing our studies for the semester. I have finished the classes for that Arts & Sciences Associates Degree at our local CC.
All A's again too.
Becka and Tom also did well. Their research papers ate up a lot of December too, come to that,, but they got A's and B' s so I am happy for them. I didn't have as many big papers, though my math requirement made sure I studied just as hard.
Of necessity, this year's theme is peaceful simplicity and gratitude for God's provision. Which doesn't mean we can't enjoy the Grace in what we've been given. We are looking forward to enjoying the prezzies and snacks planned for tomorrow (We've already started on the snacks. :) Then we'll have a nice meal and a long nap. I'm looking forward to it already.
Wishing you a