We're not particularly Irish, though we are somewhat Gaelic. My husband's family is mostly Scottish. I get my Celtic side from my French/English/German roots.
Nevertheless, my family has always remembered St Patrick's Day. Seems worth doing. After all, St Pats & St Nicholas are about the only saint feast days that most everyone remembers.
Please accept our warmest wishes for a wonderful St Patrick's Day.
May the flowers near ya bloom fair,
May your heart be without care
May you get lots of fresh air
May the birds miss pooping on your hair
May your troubles go away and stay 'zere
In fact, may your troubles get eaten by a bear.

If you click the image below you can see the 2007 St Patrick's day card Rebecca made for us all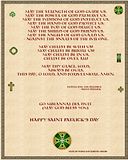 May your day be truly blest!